The Grodan Expert Slab made of Rockwool and encapsulated in plastic, is imported from Holland and specially treated for the hydroponics and aquaponics industry
Grodan Expert Slabs are perfectly balanced for optimum plant growth, ensuring an even distribution of water, air, nutrients, EC & pH. The uniform distribution and vertical structure of the fibres results in the same resistance for each root, thereby ensuring that the roots distribute themselves uniformly throughout the slab for rapid and healthy plant growth. The plastic cover ensures that the required moisture is retained so as not to compromise the roots in hot and dry weather.
The Grodan Expert Slab is often used in hydroponics for bigger plants such as tomatoes and cucumbers that need to grow in rows.
The norm is to germinate the seeds in Grodan Plugs (more info here), then transplant to Grodan Hugo Blocks (More info here), then finally add the blocks to the top of the slab, after cutting out the plastic as shown below.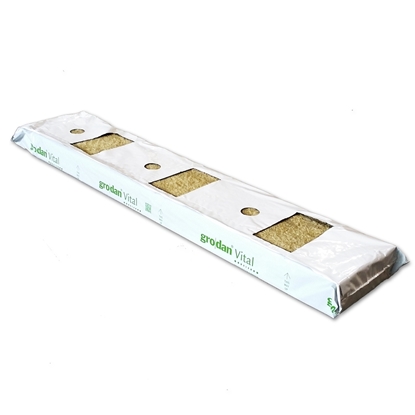 Charecteristics